The Last Minute Adjustment Rule in Rategenie allows your rate strategy to adjust your nighty rates up or down for future dates, starting from tonight. Its main purpose is to increase the appeal of your unbooked nights, even as the clock ticks down.

While Rategenie's rules are simple to apply, we figured you might want to know what's going on under the hood (so to speak). So let's take a look!
---
What is a last minute adjustment?
As the name suggests, the Last Minute Adjustment Rule adjusts your rental's rates for immediately approaching dates. That's tonight, tomorrow night, and so on, outward for the number of nights specified in the rule.

Due to the close proximity of these dates, these nights are notoriously difficult to rent out. Not only is there less time available to generate effective marketing for these nights, but there is also a smaller pool of available guests that book rooms at the last minute.

To boost the appeal of your room, it's common practice to lower the nightly rate for these upcoming night. Doing this for one rental already requires vigilance and a daily commitment of time in order to make this modification across all connected channels. Now multiply this out over multiple rentals, and you'll be costing yourself money just in lost productivity alone. Why not let Rategenie handle this for you?

The Last Minute Adjustment Rule is completely automatic – you just set the parameters and let Rategenie do the thinking.

---
How does the Last Minute Adjustment Rule work?
Creating a last minute adjustment couldn't be simpler.

The Last Minute Adjustment Rule can be added when creating (or editing) a rate strategy.

There are three fields that can be filled:

Nights – This will determine the number of nights, starting from tonight, that will have their rates adjusted by Rategenie. If you enter a value of 3 nights, the adjustment will apply to tonight's rate, tomorrow night's rate, and the rate for the night after that.
Adjust percent – This represents the positive or negative percentage adjustment that will be made to the nightly rate, when this rule adjustment is applied. Insert a negative  sign in front of the number to apply a negative adjustment, or discount.
Minimum nights – The value entered here is optional, and it allows the minimum night requirement to override any lower-ranking rules adjustments made on the same calendar date. To read more about the minimum night stay hierarchy, please check out the Rategenie Blog to learn more about how your rates work.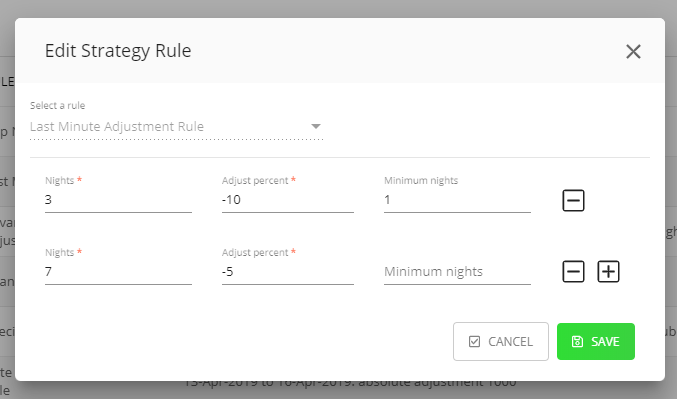 In addition to those fields, there are also plus (+) and minus (-) buttons that allow you to add more line items to the rule.
For the example above, the first line of the rule will apply a 10% discount to tonight, tomorrow night, and the night after that. It will also apply a 1 night minimum stay requirement for bookings on those nights, assuming there is not a higher-priority rule already applied to the same dates.
The second line will apply a 5% discount 4 to 7 nights from now, as the first 3 nights already have a discount applied. As there is no minimum night stay set in the second line, the highest ranking minimum night available for the date will be used.

Save the rules, and Rategenie will work its magic. Increasing your last-minute occupancy has never been easier.

Using Rategenie's Last Minute Adjustment Rule will ensure you maximize your occupancy in the near term.